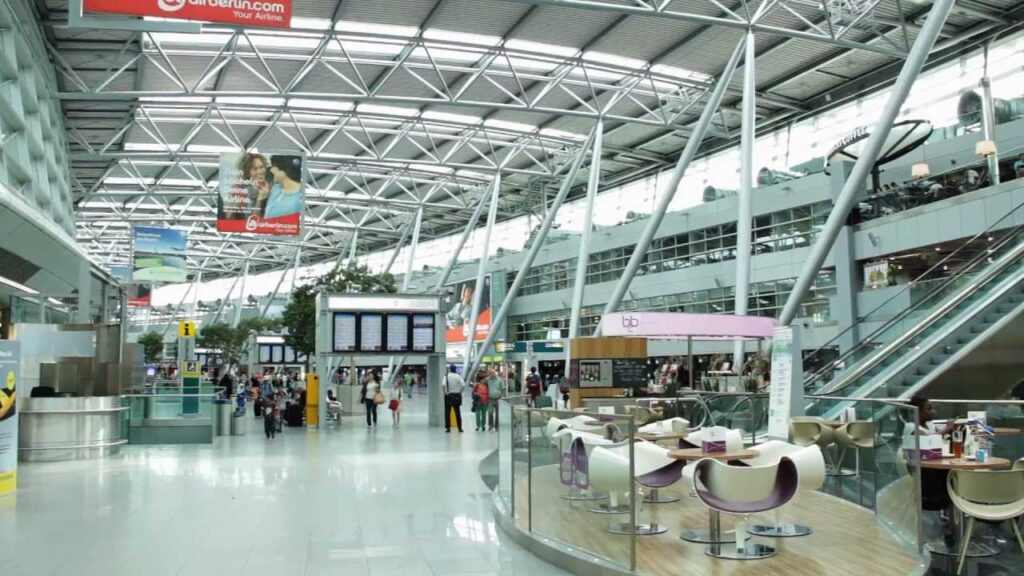 As one of the most popular airports in the whole of Germany, the international airport for Dusseldorf is a major entry point for Germany. As one of the major airports in the North Rhine-Westphalia region, this tends to be the entry point to the old industrial heartlands of Germany. From cities like Dortmund and Dusseldorf in such close proximity, this airport makes it easy to see why so many want to come and visit this part of Germany.
As the third largest airport in the country after Frankfurt Airport and Munich Airport, Dusseldorf Airport plays a major role in Germany. Its importance to the nation as well as the regions around it should never be underestimated, as this plays a critical role in the overall growth and development of Germany in the feature. Indeed, it can handle as many as 21.8m passengers in a year as it did with ease in 2014.
Dusseldorf Airport serves as one of the major air hubs for significant parts of German aviation, too. For example it stands as the home for Air Berlina and Eurowings. Dusseldorf Airport also serves as the only long-haul network point for Lufthansa, making it an even more important part of the economy.
It's this major importance to Germany that ensures that Dusseldorf Airport continues to be used and enjoyed on a regular basis. With three main passenger terminals as well as two runways that can handle wide-bodied aircraft such as the Airbus brand, Dusseldorf Airport is a major benefit to Germany in general.
The airport itself has a rich and exciting history, with the first event taking place on this ground in September 1909. Since then the airport has gone through a major transformation, going from a nice and easy place to land to one of the major international hubs for German and European access.
Not only does this play a major role in the German economy, it makes it easier for people to get to and from one of the most diverse and powerful nations in the world.
Map of Dusseldorf Airport
The airport itself is rather interesting in terms of its design. For example, the airport itself is part-owned by Airport Partners and part-owned by the city of Dusseldorf itself. This has led to major improvements and developments over the years, making it a major part of the city in general.
The airport itself has three major terminals included – all connected by one major central spine. However, each of the terminals is more or less a concourse within one major building, all brought together for ease of usage.
Terminal A tends to deal with many airline partners and has 16 different gates. It also houses major Lufthansa lounges, and has played a major role in the airports development. It's also now being used by Singapore Airlines as a major international partnership has grown from the airport.
Terminal B has 11 gates and is used for domestic and flights from within the European Union. It works with the likes of Alitalia, BA, KLM and Air France to provide an easy international stopping point for anyone who is heading in this direction.
Terminal C operates with 7 gates and is used for any flights coming into Dusseldorf Airport from non-Schengen areas of the world. This is a very interesting terminal to visit as it has such a wide range of airliners from Eithad Airways and Turkish Airlines to American Airlines and beyond.
On top of this, the airport makes use of two major runways made from Concrete, spanning 3,000 and 2,700 metres in size respectively. If you would like to see more of the airport then you should check out this tour of Dusseldorf Airport. This is a great place to visit if you want to see what the airport tends to look like before you come here to fly later.
If you would like to see the full airport in all of its glory, then be sure to look out for this webcam of Dusseldorf Airport. Not only dos this give you an idea of how busy it is to help you plan and prepare your journey to the airport, but it should help you find accuracy in your flight choices.
This webcam means you will be able to see the airport interacting in live time, making it easier to plan and prepare your arrival with ease.
Dusseldorf Airport Flight Tracker
Trying to get to and from Dusseldorf Airport? Then you might want to consider using a flight tracker for Dusseldorf Airport. This helps you know what is going on here, and what you need to keep an eye out for when you first arrive here. The flight tracker can be very useful in stopping you from making a mistake with your flight progress.
Schlossturm
Interested in seeing a stunning old-school castle keep build in proper German style? Then take time out of your day to head on down here to see this. If you are in Dusseldorf then this is well worth your time; a piece of modern architecture that looks brilliant and can be the perfect ally for you.
This will give you a much greater idea of how Schlosstrum looks if you use the webcam of Schlossturm to see what you are looking at. Now you can plan to come down here when it's quieter or if you want to mingle with the busy locals!
Marktplatz
This is a good place to come and visit if you are in the city, too. The Marktplatz is a wonderful architectural marvel that manages to capture all that is wonderful and free about this brilliant city. If you would like to get used to coming here and seeing the city in all of its stunning glory, you should check out this Marktplatz webcam. It will give you a good idea of just how wonderful this city can look, especially if you decide to turn up at the times when it's a little less populated than usual!