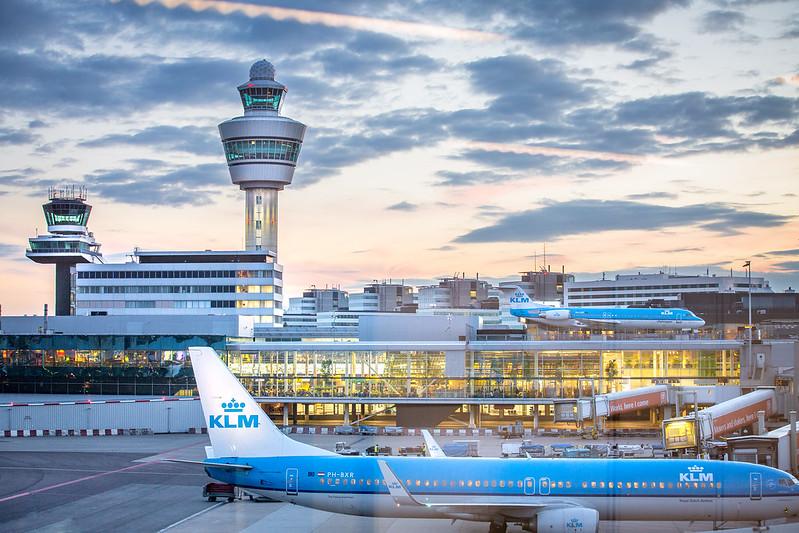 Webcam Schiphol 
The Amsterdam Airport Schiphol located in the Netherlands municipality of Haarlemmermeer just twenty minutes southwest of Amsterdam is the primary international airport of the Netherlands and the fourth busiest airport throughout the European region in passenger travel.
The airport which is the main hub for the flag carrier airline of the Netherlands, Koninklijke Luchtvaart Maatschappij N.V (Royal Dutch Airlines), or KLM and its subsidiary KLM Cityhopper is also a centre for a number of other airlines including Dutch Airlines, Arkefly, Transavia.com. Martinair and Corendon Dutch Airlines.
Schiphol today with its airport terminals, runways, and on-airport businesses such as hotels, retail stores, offices logistics and air cargo is widely considered as an airport city additionally serving as the European hub for the major American airline Delta Air Lines, Inc as well existing as a base of operations for the Spanish low-cost airline Vueling Airlines, S.A.
Facts about Amsterdam Airport Schiphol
▪ The Amsterdam Airport Schiphol official name in English reflects the Dutch word Luchthaven Schiphol which originally meant Airport ship Schiphol.
▪ Schiphol in 2013 was ranked as the fourth busiest airport in Europe and the fourteenth busiest airport in the world in passenger travel. The airport additionally ranked as the world's sixth busiest airport by international passenger travel and sixteenth busiest for cargo tonnage recorded over fifty two million in passenger traffic during the same year.
▪ Schiphol on September 16, 1916 was initially opened as a military airbase containing a small number of barracks and an open field which served a dual purpose as the platform and runways. With the airbase later accommodating a number of civil aircrafts, the aircraft manufacturing company known as Fokker began construction of its factory close to the airport in 1919.
▪ A Boeing 747 cargo airplane on October 4, 1992 on route to Tel Aviv crashed into an apartment building shortly after takeoff after experiencing a physical separation of both engines on its right wing killing a total of 43 people including one crew member, three non-revenue passengers and injuring several others.
WebCam.NL Amsterdam Schiphol Airport Webcam
The online website of WebCam.NL features two live webcams from the Amsterdam Schiphol, Amsterdam, Netherlands.
Webcams 1 and 2 positioned on top of two buildings located east and off the airport provide an overhead view west of Runways 18L/36R; 09/27; 06/24; 04/22; as well as Piers D and E both containing their respective Gates.
View WebCam 1 NL Amsterdam Schiphol Airport Webcam.
View WebCam 2 NL Amsterdam Schiphol Airport Webcam.
NBK Online Atmore, AL Amsterdam Schiphol Webcam
This webcam located on the roof of a Personal Residence in Aalsmeer in the Dutch province of North Holland features a view of the Dry Lake Mill with an addition view of the Alasmeer flower auction in the distance. Due to its close distance to the Schiphol Airport visitors to this link may occasionally see a number of planes on route to or departing from the airport, especially whenever the camera is focussed south-west.
View NBK Online Atmore, AL Amsterdam Schiphol Webcam.
VID Traffic Cams Amsterdam Schiphol Airport
Visitors to the VID 24 hour traffic monitoring website are allowed access to a number of traffic cams which are positioned on several poles used for the purpose of advertising the operator Interbest highway advertising which is also known for connecting the traffic cameras to their own advertising network.
The traffic cam located along the A4 highway at the corner junction south-west of the Schiphol Airport or just North-west of runway 06 hold features an overhead view of the current traffic conditions including a North-east view at the taxiway.
View VID Traffic Cams Amsterdam Schiphol Airport webcam.
AIRPORT WEBCAM TAGS
rijkwaarter staat wepcam
rijkswaterstaat webcams amsterdam